Agency Capabilities Overview
ADstruc is the leading planning and buying platform for the Out-of-Home industry. It's been our mission since day one to make it easier to buy and sell outdoor advertising. So, to show you how we did it, we made our agency capabilities overview public for everyone to see.
To get started today, just email accounts@adstruc.com.
Our New Platform Updates Help You Build Smarter Media Plans
Market TRPs Summary
For TAB members, our TAB OOH Ratings integration ensures your outdoor campaigns target the right demographic. Our Market Summary pane now includes a market-by-market breakdown of your average weekly TRPs so you understand how effectively you're reaching the folks buying your clients' products and services.
CPM Data Now Available
Data enables you to make smarter buying decisions, and we're committed to giving you what you need to build and execute a winning media plan. All TAB-audited media in ADstruc will now be accompanied by a CPM calculation to help you understand whether any given unit is a wise use of your client's ad budget.
New Proposal Creation Workflow Updates
Place-Based Proposal Automation
When you created Indoor and Place-Based proposals on ADstruc in the past, say for Airport or Shopping Mall media, you had to input a venue name and its latitude/longitude coordinates that you probably didn't have handy. Now you can skip digging up coordinates and just add the venue—we'll automatically fill in the lat/longs behind the scenes!
New Coverage Package Workflow
Proposing small or mobile media just became easier. We gave our coverage package workflow a facelift to simplify the process of proposing media like street furniture and transit.
MediaGrid Required Fields Now Labeled
Hate it when you fill out a form only to be reminded that you missed a required field you didn't see? So do we! Next time you complete MediaGrid to send your proposal, you'll know right away which data is required so you can quickly create proposals and get on with the rest of your day.
A Creative Review: Speck
Welcome back to A Creative Review with James Cooper. Today Coop ponders the (impending?!) robot invasion of advertising.
Perhaps it was the 75th Anniversary of Orson Welles' 'War of the Worlds' or that it was Halloween, but when I saw this piece for Speck I immediately thought about how cool it would be if it was a campaign about machines or robots taking over.
Photo credit: ADstruc
This then lead me to a lot of questions about the nature of Artificial Intelligence and how that would affect advertising.
Would the machines be in tune with the current Banksy debate in New York City? I guess they would be able to read Twitter, so yes.
And what would robotic advertising look like? Sometimes I feels like it's already upon us. Just turn on your TV and wait - you won't have to wait very long - for the first pharma ad to come on and there's your answer. It goes something like this:
Old but quite attractive smiley person goes about his business, but then feels pain. He looks unhappy and dour. He goes to see a man in a white coat. Who gives him some pills. At this point there is a voice over about how these pills could actually kill you but you shouldn't worry. Then our smiley attractive person carries on with his business looking even more smiley and attractive.
I do wonder though, what a robot authored billboard look like? Maybe the Apple campaigns.
But back to this piece. I think it's far more likely that is not in fact the first sign that the machines are taking over, and instead just an ad for cellphone cases. And it does that singular job very well. It's bright, the headline is mercifully short (remember the 6 word rule) and I can see logo and product clearly.
Good job humans.
_____
That's all folks! Want to get involved? Send us shots of the best [or worst] outdoor advertising you've seen, and we'll choose one every week. Just email coop@adstruc.com.
Happy Halloween from everyone at ADstruc!
A Creative Review: Banksy in NYC
Welcome back to A Creative Review with James Cooper. Today Coop is all about Banksy!
This October throughout NYC, the only word on the street was Banksy. I have a love hate relationship with him as I'm sure many people do. Some of what he does is incredibly insightful (Wall and Piece) but other work seems to miss the mark. Most of the work this month has left me a little cold.
Why? Because I want him to really cause trouble. He accuses the Freedom Tower of being a 'Shy Scraper' and that New York has lost it's nerve by allowing such a tame building to take the place of the Twin Towers. I can see that, for sure. But I think you could argue that most of the pieces he has done this month - by his own very high standards have been a little 'shy' too.
All photos courtesy BanksyNY
For a man who hates advertising and brands, he is of course now one of the most famous brands out there. And now, every single piece of work he does is an ad. He may not like that, but he can't dislike it that much because he keeps on doing it.
Many moons ago the Beastie Boys ripped VW signs from cars and put them on gold chains. They gave VW instant credibility. Kids were stealing a brand message. There have been a few reports of people stealing Banksy's work and I love this video of a guy in the Lower East Side charging people to take pictures. Why not? Everyone is trying to make a buck.
You will see a ton of pieces in the next few weeks / months / years about how brands should behave like Banksy. Of course, most of it is nonsense. He is cool because he is illegal and he is cool because he is scarce. No normal brand with boxes on the shelf or services for sale can actually act like that.
But we shouldn't think about these things too hard. VW was Hitler's car brand. Surely someone must have pointed that out to the Beastie Boys, but maybe they were too busy having fun. That's still my advice for brands using outdoor. Why so serious?
_____
That's all folks! Want to get involved? Send us shots of the best [or worst] outdoor advertising you've seen, and we'll choose one every week. Just email coop@adstruc.com.
A Primer on Cooperative Advertising and Outdoor Ads
What is co-op advertising?
Cooperative, or co-op, advertising is a common practice where two parties share the cost of an advertisement for their mutual benefit. Co-op is popular with franchises, retailers & manufacturers, and local businesses.

All photos courtesy of Todd Turner, Adams Outdoor Advertising
Larger parties (e.g manufacturers, brands, and franchisors) typically covers the lion's share of an ad's cost via reimbursement or in trade. This makes local advertising affordable for your business, while simultaneously lowering out-of-pocket and inventory costs.
Is it worth it?
Absolutely! Co-op programs often reimburse 50-100% of eligible media costs.
If you've ever seen an ad for your "Tri-state," "Area," or "Local" Honda/Toyota/Ford/Lincoln dealer — that's co-op at work. And co-op programs aren't always controlled by corporate parents. Local auto dealers representing the same brand often pool their marketing funds together to get volume discounts on media.
Even major national brands use co-op to help promote partnerships.
What kind of media can I buy with coop?
Depending on the program, there can be a wide range of eligible media: TV, Radio, Outdoor, Print - even Google Adwords & banners.
Home & health services, hardware & furniture stores, and food franchises are three of the biggest users of outdoor co-op advertising. In all of the examples shown, both the local business and the franchise logo are prominently featured. This co-branding is a common requirement.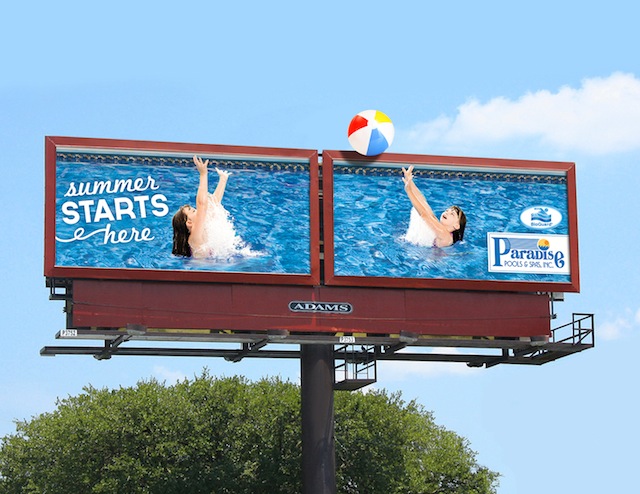 Why should I spend my co-op dollars on outdoor ads?
Outdoor advertising brings customers in the door, reaches people on the move, enables awesome creative, and is very affordable. With that kind of return, it's the perfect medium for co-op!
The CPM chart and billboard pricing map below illustrate how outdoor stacks up against other media and the average costs in several markets:

CPMs for competetive media - courtesy of OAAA

Four week billboard costs in major DMAs
Where can I find out about co-op programs and eligibility?
Check with your manufacturer, franchise, or brand rep to see if they have a co-op program. Even if they don't, you may be able to negotiate a beneficial deal. After all, co-op benefits both parties! You can also use Recas to investigate co-op opportunities.
How do I buy outdoor advertising?
At ADstruc, we make buying billboards and outdoor media a snap. Our planning and buying tools are intuitive and put you in control. Because nobody knows your business like you do.
Check out ADstruc online or give us a call at 646.692.4966. Our team is ready to help you plan and execute an amazing coop campaign!