A Creative Review: Draw Something 2
Welcome back to A Creative Review with James Cooper. Today Coop's all about Zynga's wild posting campaign for Draw Something 2.
I've said before that I believe outdoor can be an interactive medium. People talk about digital being the way forward for everything, but what I think we really mean by this is interactive. Digital just makes it easier to interact. But if you are smart and have some balls, you can invite your audience to interact with you in a more public and permanent way.
When I worked with Sony Ericsson, I did a lot of photo upload sites. And our client would always ask us about the potential for user abuse. It was the first question: 'What do we do about naked pictures'? Well, of course, it's easy enough to employ moderators, and most folks will act like grown ups. But, there is still some primeval urge by men - I'm assuming it's men! - to upload pictures of their naughty bits and draw pictures of them too. 
Photo credit: ADstruc
The why of that I will leave for the more Freudian of you, but my reaction is the same now as it was back then in early Internet days: at least these people are interacting with your brand. They have at least read your message. That's more valuable than a simple dismissal. And if you think about it, drawing genitalia on something makes it more likely that the next person who walks by will take notice. 
So props to Draw Something 2 and Zynga - an Internet era company if ever there was one - for using outdoor as a medium, but staying true to the ideals of web company that values interaction over inaction. 
_____
That's all folks! Want to get involved? Send us shots of the best [or worst] outdoor advertising you've seen, and we'll choose one every week. Just email coop@adstruc.com.
A Creative Review: Kraken Spiced Rum
Welcome back to A Creative Review with James Cooper. Today Coop dives headfirst into a gripping 3D wallscape from Kraken Spiced Rum.
Release the Kraken!
Disclaimer first. I have an affinity for Giant Squids. Just before the holidays I released a kid's book for the iPad called The Little Giant Squid (it's free, download it, go on) 
So when I saw this piece for Kraken Spiced Rum, it immediately lept out at me. And I don't think I'll be the only one to feel like this. Kraken are doing what every small, challenger brand should do, creating work that stands out. 
Photo credit: ADWEEK
I like the attitude of this wallscapes. You have to be a cold hearted person, or a very, very bleary eyed commuter, not to do a double take when you see this enormous tentacle scooping someone from their window. Whether the name and the product is enough to stand out in a crowded - and well funded - market remains to be seen. But, the ads are doing their job and we can't say fairer than that. 
_____
That's all folks! Want to get involved? Send us the best or worst billboards you've seen and we'll choose one every week. Just email coop@adstruc.com.
A Creative Review: Frank Ocean's Channel Orange
Welcome back to A Creative Review with James Cooper. Today Coop tackles a phone kiosk advertisement for Frank Ocean's new album Channel Orange.
The Opportunity To Surprise 
Whenever someone buys media space and commits pen to paper to produce an idea, there is an opportunity. An opportunity to do something amazing. Something that will stop people dead in their tracks and make them feel something. They might be shocked or amused, but hopefully, they just won't be able to live another second without buying that product or service. It's what us creatives live for - the opportunity to surprise. 
Often there is not much for us to go on, we have to dig deep to conjure up something that no one ever thought of. Often the product itself is boring and bland. Yet here we have Frank Ocean, one of the most interesting artists around right now. He's part of the Odd Future guys and hanging out with Jay Z. Those guys know how to make you stop and think about shit - Jay Z's Decoded outdoor campaign was rightly heralded as a masterpiece.
Photo credit: ADstruc
A Song With No Soul
I am not naive enough to believe that Frank Ocean had anything personally to do with this particular piece of artwork, but that's the problem for me. He has an opportunity to do something so fresh and inspiring, he should be in control of every touch point a consumer has with him. 
This is just a boring list of quotes that are so small no one can read them. I guess you could argue that the QR code is supposed to stop and encourage you to get the album there and then, but most people will have already walked by without noticing anything. 
The music industry is in such an interesting place right now. Artists and labels that use media and technology in an innovative way are going to win. This is a missed opportunity, the equivalent of a Frank Ocean song with no soul.
_____
That's all folks! Want to get involved? Send us the best or worst billboards you've seen and we'll choose one every week. Just email coop@adstruc.com.
A Creative Review: Pabst Blue Ribbon
Welcome back to A Creative Review with James Cooper. Today Coop dissects a new campaign featuring go-to budget brew, Pabst Blue Ribbon.
Fine Art & Cheap Suds
This PBR billboard is a conundrum indeed. What do you do for a brand that has - almost unwittingly - been hijacked by Williamsburg hipsters? As a marketer do you shrug your shoulders, thank the lucky stars and Vice magazine that the kids are back buying your beer, and go on your merry way? Or do you try to engage the hipster audience? With this billboard it's clearly the latter. 
Photo credit: ADstruc
On the creative execution alone, I would have advised them not to bother. It's a bit of a mess frankly. The Warhol style screen print is so played out. Campbell's just launched a range of soup cans that have the original Warhol design on them, and you can sort of see why that makes sense, as they were the original inspiration - but here it just feels lazy and uninspired. 
It's a shame too, because the idea with pbrart.com - again, what a clumsy url! - is to inspire people to 'drink and draw'. I actually quite like that as a line and idea. It has some balls to it. But sadly, the site is pretty flat and the drawings that users have uploaded weak. Some might say just like the beer.
_____
That's all folks! Want to get involved? Send us the best or worst billboards you've seen and we'll choose one every week. Just email coop@adstruc.com.
A Creative Review: Celebrities and Billboards
Welcome back to A Creative Review with James Cooper. Today Coop takes a look at ads featuring celebrity spokespeople.
Celebrity Endorsements
If you read any historical books about advertising, there is a famous quote from a client who says something along the lines of 'I know 50% of my advertising doesn't work, I'm just not sure which 50%'. It's a familiar problem. Advertising is not a science. There are no guarantees. However, it is assumed that one of the less risky options is to go with a celebrity endorsement.
Photo credit: Jockey Buzz
The theory here is that Jennifer Anniston and Tim Tebow et al. are instantly recognizable and of course desirable. 'She drinks it. I want to be like her. So I'll drink it.' For many marketers this seems like a no brainer and yet there is no real evidence to suggest a celebrity endorsement will help a brand. In some instances, (probably anything to do with Charlie Sheen), an endorsement can have a negative effect.
Photo credit: Daily Billboard
I think there may be some merit in long term associations such as William Shatner for Priceline or Ashton Kutcher for Nikon. Clearly they will involve some serious bucks - yet over the long run they will probably pay off. However, these billboards feel like a one off. They will give the brands a little bit of a lift, but it's what the brands do after someone sees Jennifer or Tebow that will really help sales.
_____
That's all folks! Want to get involved? Send us the best or worst billboards you've seen and we'll choose one every week. Just email coop@adstruc.com.
A Creative Review: Old Navy & The Gap
Welcome back to A Creative Review with James Cooper. Today Coop compares two spectacular executions for sister fashion retailers Old Navy and The Gap.
Do, Don't Say
There is a rule we creatives like to tell ourselves - actually for a profession that is supposed to be more like art, there are a ton of rules we try to live by - anyway, I digress, the rule is that any ad should do or be what you want to say rather than say it. There is nothing less cool than saying 'hey, I'm cool'. You should just be cool. And so here we are with two billboards about brightness. 
Photo credit: Gelatobaby, via Flickr
The Gap board says, 'Be Bright'. I guess it is quite bright and there is a slim play on words as bright can mean clever. I quite like the use of the t-shirts, it's a good product demonstration - remember the product! – but, I'm just left a little underwhelmed by it. I do worry ever so about the dirt on those nice pastels. 
When a Billboard Is Not a Billboard
Photo credit: BoweryBoogie
If literal brightness is the goal, then this Old Navy billboard takes the cake. But when does a billboard cease to be a billboard? When it's a sign. To some this is just a glorified sign - and an over-illuminated one at that. In previous posts we have talked about getting people to comment in billboards and share content. People are talking about this one alright, but perhaps not in the best light. 'Borderline blinding' was one comment, 'spewing out copy' was another.
Clearly our job is to sell, and to do that we need to get noticed. This billboard certainly does that, but at what cost?
_____
That's all folks! Want to get involved? Send us the best or worst billboards you've seen and we'll choose one every week. Just email coop@adstruc.com.
A Creative Review: The Dark Knight Rises
Welcome back to A Creative Review with James Cooper. Today Coop critiques one of the fantastic promo billboards for Christopher Nolan's The Dark Knight Rises.
Photo credit: Rob Sheridan, via Instagram
Talkability
Will people talk about this billboard? Of course they will. Ok, you have a rabid fan base that is just waiting for any Batman related content - but still there is an epicness (if that's a word, spellcheck seems to think not) about this that would work even if people weren't nuts for the Dark Knight.
Six characters
Holy editing Batman! We talked about trying to keep text to a minimum with the mini ad last time. This does that brilliantly. Six words? Nah, try six characters.
Destruction
There have been a lot of billboards destroyed for effect so this is nothing new, but I like the bat shape. It draws you in and is not gratuitous. There is a reason for the destruction. It's always great to see a bit of sky in the middle of a billboard. I just think it makes people do a double take.
Energy
This is an ad for a film. A moving image, a highly polished moving image that is super-fast high-paced adrenaline pumping non-stop! It's hard to capture that on a flat piece of board. Yet this has all of that energy. In your mind you visualize a giant bat ripping this board to shreds and streaming down the highway. Crap, I really need to go see this movie!
_____
That's all folks! Want to get involved? Send us the best or worst billboards you've seen and we'll choose one every week. Just email coop@adstruc.com.
A Creative Review: Mini
Today we're introducing our new weekly feature, "A Creative Review" by longtime friend and advisor James Cooper. 'Coop' enthusiastically volunteered to share his thoughts on some of the most innovative and effective Out of Home ads he's seen around the world.
Based in New York, James has spent over 15 years leading creative projects for several top agencies including Anomaly, Saatchi, and JWT where he was the Chief Creative Innovation officer. He recently won a Gold Lion for Mobile at Cannes for the Band-Aid app featuring the Muppets. James is now pursuing consulting, tech start-ups and entrepreneurial projects in the retail, film and music industry.
Photo credit: Coloribus Creative Advertising Archive
Can A Billboard Go Viral?
Pretty much every client I have worked with over the last 10 years has wanted a viral. What they mean by that is that they want to do something that will reach a ton of people without spending any money. Of course it doesn't work like that. Who could ever predict that a cat playing a keyboard would turn into a cultural phenomenon? The more you try to force that the more obvious everything becomes.
So really the only thing left is to create a piece of work – it can be a film, a billboard, a postcard – it doesn't matter, but it needs to be so simple and interesting that people feel compelled to share it. If people want to share something they will find a way of doing it. I don't think this piece is the strongest in terms of sharability but it does have a simple strong message that a lot of people would have found engaging. I would assume some people shared it with their friends.
Is Your Piece True To The Product?
It seems simple to say this but a lot of billboards just don't feel like they belong to the product. They don't ring true. However, this one does. The best thing about it is that although it's a static image, everything about it implies movement. The ropes and the copy are all about speed and trajectory. How many times have we seen billboards with tire tracks in an attempt to do the same thing. This works so much better. It also leaves a little to the imagnation which is great. The consumer creates in their head what would happen if the catapult was released. Anything where the consumer fills in the last part of the story is also great – as everyone will have their own version.
Just Two Words
The general rule of thumb was that if your billboard uses more than seven words then it's too complicated. Maybe now that's not as true, as people are more used to deciphering messages at speed, but for me it still makes a huge amount of sense. And two words is better than seven. Of course everyone knows what a mini is so there is no need to waste any time explaining the product – this is pure branding but it's still brilliantly economical. If your billboard is purely visual then I would suggest that a visual that can be summed up in seven words or less will also work much better than an intricate piece of layered art.
It's Intriguing
Not only is the visual intriguing, the copy is too. Agrippez Vous? What the hell does that mean? The literal translation in French is 'Hold on Tight' – which obviously works in this context. This was posted in France, so it makes sense, but even if you didn't understand French this works. It has a cheekiness about it that feels spot on for a European brand.
_____
On to the next one. Want to get involved? Email your favorite or worst billboards you've seen and I'll choose one a week to critique. Just email them to coop@adstruc.com
How To Create An Effective Outdoor Ad
In our last post, we cautioned against signing media contracts until the art was ready. But, what if you've never designed an out-of-home ad before?
Today's post focuses purely on 'creative' and how to design the most effective outdoor ad. We'll focus on billboards for simplicity sake, but everything here is mostly applicable to other OOH media as well.
At ADstruc, we firmly believe that the best outdoor advertising starts a conversation and builds a relationship. So, make sure your creative engages the consumer!
Please welcome guest blogger and ADstruc advisor, James Cooper. As the Chief Creative Innovation Officer at JWT, James knows a thing or two about creating great ads!
Less is more
At 65 mph, everything goes by quickly - including billboards. Keep your message simple and to the point. Focus on what your product is, what it's called, and where to find it. Don't hide your message behind cartoons or fancy fonts. You want viewers to remember what you're selling; not your typography!
This billboard for Kelly Infiniti contains a lot of very relevant information, but there's no way a passing motorist can process it all. There are seven fonts, three different images, five different colors, and multiple calls to action.

source: Kelly Infiniti
On the other hand, Denver Water uses humor and sharp visuals to spice up an otherwise prosaic Public Service Announcement.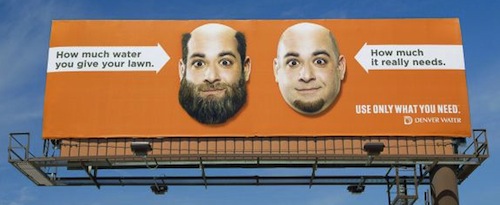 Source: Ads of the World
The Outdoor Advertising Association of America (OAAA) has an entire guide to designing creative for OOH, which is available to all members here. If you're not a trained designer, you may find this chart helpful as a starting point:

Source: OAAA
Billboards are best viewed from a distance - between 250 - 350'. 72pt font isn't going to cut it here! At minimum, your text should be around 15" tall - and the bigger the better.
In their 10 Commandments of Outdoor Advertising, our friends at The HangLine suggest a maximum of seven words in your ad. While this may appear to stifle your creative genius - it really just cuts to the chase: the who, what, where, and when!
The Stripes ad below is a great example of how little copy you need to get viewers interested: Feeling hot? Go to Stripes and get a refreshing soda.

Source: Ads of the World
Live Large
A standard billboard is 14' tall and 48' wide. This is one of the largest, most accessible canvases available to promote your brand. Take advantage of the space and think big.
The Economist launched a campaign in 2008 to increase brand awareness, attract new subscribers, and shake off the stuffy perception that many had about the brand. They chose to go big, utilizing wallscapes, large format billboards, and other OOH media. The resulting media coverage was almost as useful as the ads themselves!

Source: Ads of the World
Of course, not everyone has a multi-million dollar media budget. Even with a simple concept, you can still make a major impact.

Source: Ads of the World
Think about your surroundings
Any good marketer knows that the key to effective advertising is connecting with the target audience. Your ad should take advantage of its location and how people will interact with it.
This Economist billboard is quite sparse, but it incorporates a simple motion sensor to create an interactive experience.

Source: Ads of the World
Day and Night
Most billboards are illuminated after dark, which means your advertising investment can work for you around the clock.
Leo Burnett created this clever ad which appeals to all the night owls looking for a late snack.

Source: Ads of the World

Source: Ads of the World
Unfortunately, some ads are not designed with an outdoor placement in mind. This is especially true in cases where the art is developed for print/TV and then reformatted for Out-of-Home. Dark backgrounds, intricate renderings, and low contrast compositions are hard to see at night and will and distract from your message.

Source: /Dev/Culture
Advertising is often the first exposure a potential customer has to your brand. Whether you are a local business or a CPG heavyweight, you can always benefit from an effective ad.
When I was learning how to make great advertising the litmus test of an idea is whether it will work in a billboard. It's the hardest medium to create for but if your idea works in a billboard it will work anywhere. That's why I love them so much.
ADstruc Announces Appointment of James Cooper
April 28, 2011 – New York - ADstruc, an online marketplace for outdoor advertising, is proud to announce the appointment of James Cooper, Chief Creative Innovation Officer at JWT, as an advisor to the startup. ADstruc has been widely publicized lately for their new platform, which brings the outdoor advertising industry online. Cooper, hailed as "one of the brightest stars in digital advertising" by Campaign Magazine, will advise the team in unveiling a large-scale marketing campaign.
"Having James join the ADstruc team is an integral part to developing our relationships with agencies," says John Laramie, CEO of ADstruc and friend of Coopers. "His creativity and innovation are exactly what we want to continue to surround ourselves with as we grow." 
Cooper, originally from London, came to New York in 2008 to be a partner of Anomaly where he created and launched the YouTube sensation Lauren Luke make up brand. Previously he was the Creative Director of Dare, named the Digital Agency of the Decade.
When asked about how James first got involved, he replied, "I first met John when he won one of my ping pong tournaments at Anomaly. He told me about the idea for ADstruc and it was one of those ideas that is so simple you can't get it out of your head. Even though I'm an ad man I'm fascinated by the New York Start Up scene so having helped behind the scenes for a few years it's great to be more involved. I never realized that you could get a billboard so easily – and cheaply - the platform delivers huge opportunities for me and my clients so I'm looking forward to being a sounding board and getting them some buzz through some really smart ideas."
Laramie went on to say, "We are really excited to be a part of the advertising industry and look forward to bringing a lot of innovation and efficiencies to outdoor advertising."