How To Create An Effective Outdoor Ad
In our last post, we cautioned against signing media contracts until the art was ready. But, what if you've never designed an out-of-home ad before?
Today's post focuses purely on 'creative' and how to design the most effective outdoor ad. We'll focus on billboards for simplicity sake, but everything here is mostly applicable to other OOH media as well.
At ADstruc, we firmly believe that the best outdoor advertising starts a conversation and builds a relationship. So, make sure your creative engages the consumer!
Please welcome guest blogger and ADstruc advisor, James Cooper. As the Chief Creative Innovation Officer at JWT, James knows a thing or two about creating great ads!
Less is more
At 65 mph, everything goes by quickly - including billboards. Keep your message simple and to the point. Focus on what your product is, what it's called, and where to find it. Don't hide your message behind cartoons or fancy fonts. You want viewers to remember what you're selling; not your typography!
This billboard for Kelly Infiniti contains a lot of very relevant information, but there's no way a passing motorist can process it all. There are seven fonts, three different images, five different colors, and multiple calls to action.

source: Kelly Infiniti
On the other hand, Denver Water uses humor and sharp visuals to spice up an otherwise prosaic Public Service Announcement.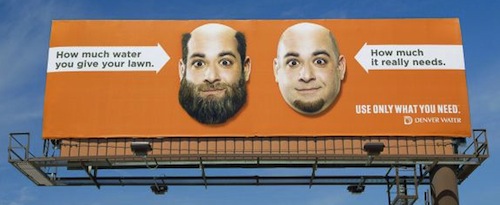 Source: Ads of the World
The Outdoor Advertising Association of America (OAAA) has an entire guide to designing creative for OOH, which is available to all members here. If you're not a trained designer, you may find this chart helpful as a starting point:

Source: OAAA
Billboards are best viewed from a distance - between 250 - 350'. 72pt font isn't going to cut it here! At minimum, your text should be around 15" tall - and the bigger the better.
In their 10 Commandments of Outdoor Advertising, our friends at The HangLine suggest a maximum of seven words in your ad. While this may appear to stifle your creative genius - it really just cuts to the chase: the who, what, where, and when!
The Stripes ad below is a great example of how little copy you need to get viewers interested: Feeling hot? Go to Stripes and get a refreshing soda.

Source: Ads of the World
Live Large
A standard billboard is 14' tall and 48' wide. This is one of the largest, most accessible canvases available to promote your brand. Take advantage of the space and think big.
The Economist launched a campaign in 2008 to increase brand awareness, attract new subscribers, and shake off the stuffy perception that many had about the brand. They chose to go big, utilizing wallscapes, large format billboards, and other OOH media. The resulting media coverage was almost as useful as the ads themselves!

Source: Ads of the World
Of course, not everyone has a multi-million dollar media budget. Even with a simple concept, you can still make a major impact.

Source: Ads of the World
Think about your surroundings
Any good marketer knows that the key to effective advertising is connecting with the target audience. Your ad should take advantage of its location and how people will interact with it.
This Economist billboard is quite sparse, but it incorporates a simple motion sensor to create an interactive experience.

Source: Ads of the World
Day and Night
Most billboards are illuminated after dark, which means your advertising investment can work for you around the clock.
Leo Burnett created this clever ad which appeals to all the night owls looking for a late snack.

Source: Ads of the World

Source: Ads of the World
Unfortunately, some ads are not designed with an outdoor placement in mind. This is especially true in cases where the art is developed for print/TV and then reformatted for Out-of-Home. Dark backgrounds, intricate renderings, and low contrast compositions are hard to see at night and will and distract from your message.

Source: /Dev/Culture
Advertising is often the first exposure a potential customer has to your brand. Whether you are a local business or a CPG heavyweight, you can always benefit from an effective ad.
When I was learning how to make great advertising the litmus test of an idea is whether it will work in a billboard. It's the hardest medium to create for but if your idea works in a billboard it will work anywhere. That's why I love them so much.